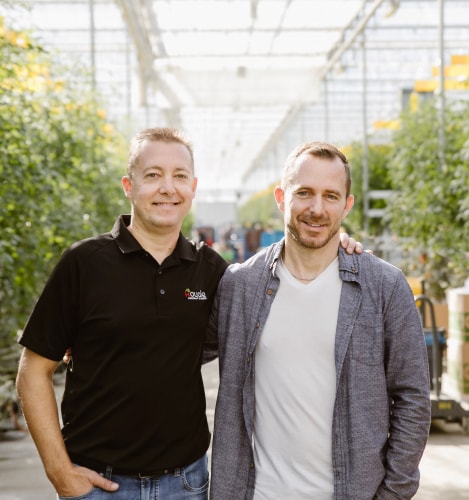 A Family Affair
Founded in 1995, Les Serres Royales is a family business located in Saint-Jérôme in the Lower Laurentians. Parents Cécile and Gilles Lemieux, along with their two sons Stephan and Pascal, have grown the company from 10,000 square feet to 4 million square feet today, the equivalent of a parking lot for 27,349 cars!
The company has won several awards in recent years for its sound financial management and its vision of agriculture, including gold in the Agricultural SME category of the National Bank's SME Award in 2015 and a finalist at the Zenith Gala of the Chamber of Commerce and Industry of Saint-Jérôme (CCISJM).
"Competition in fresh produce is very strong, with nearly 50% of the tomatoes on the shelves coming from outside Quebec. We remain the largest producer of small tomatoes in Quebec, and possibly in Canada," says Pascal Lemieux, Assistant Director.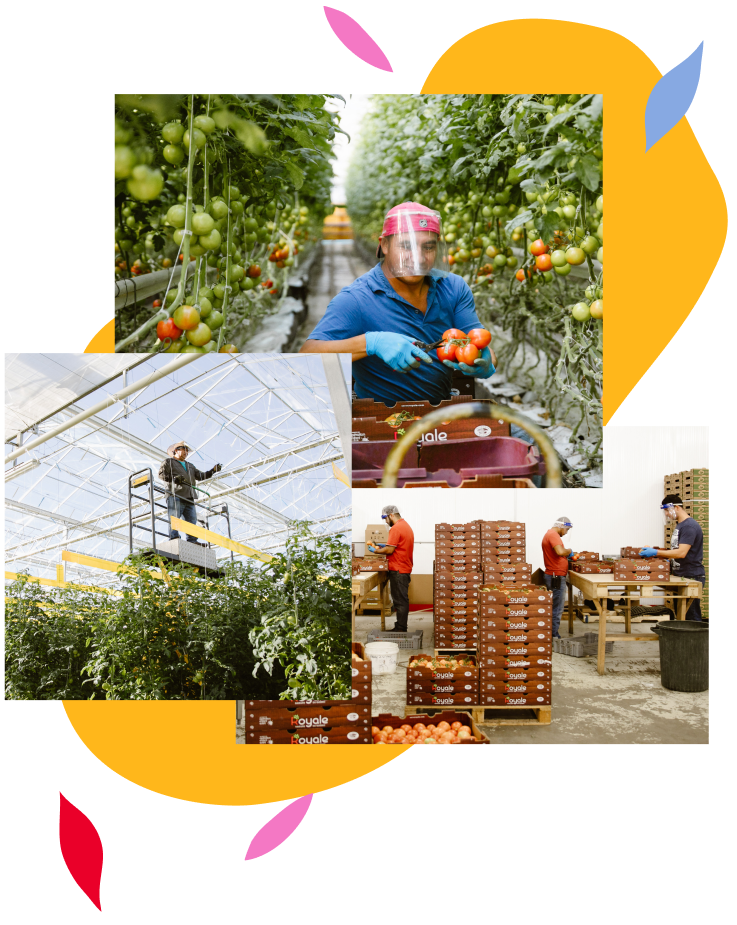 In 2020, Stephan and Pascal took over sole ownership of the company. Having worked in the business all their lives, the Lemieux brothers are proud to carry on the family tradition with a shift towards low-impact ecological operations and a view to becoming leaders in small and organic tomato production in the coming years. In fact, they plan to produce three more hectares in 2022, which will double their conventional tomato production.
The Tradition Continues
Our family values of quality, respect, teamwork, dedication, responsibility and good communication create a motivating and rewarding work environment! We are the best team to take care of our Divas and bring them to your plate!
Organic Farming and Responsible Actions
"We believe that Quebec has the potential to produce healthy and fresh food 365 days a year. For us, offering La Diva to Quebecers year-round is one more step towards a committed, but more importantly, local entrepreneurship", explains Stephan Lemieux, President and General Manager.
Our beautiful Divas are grown in high-tech greenhouses! Climatic variations, plant management and packaging are all controlled by high-performance computers to obtain perfect conditions and eliminate the use of chemical pesticides. What's more, our Divas love the little predatory insects that naturally get rid of pests!
Our Divas are precious and they thrive in a healthy environment. The use of rainwater and the recovery of irrigation water allow for balanced nutrition while reducing our eco-footprint.
These little Divas are also heated by a biomass heating system (using wood residues) which reduces greenhouse gas emissions. Our little Divas are proud to help reduce environmental impact!
La Diva is packaged in containers made of recycled and recyclable plastic. In addition, the lid reduces the use of plastic by 33%!
La Diva Organic is certified by Ecocert Canada and will soon be available year-round.

Proud to associate with the industry to promote the consumption of fruits and vegetables
Our company has been a member of the association for many years because we care about the health of Quebecers.
More than Safe
Canada Gap accreditation provides consumers with the assurance of the highest standards of safety in all production and packaging processes.
La Diva is local!
The little Divas grow near you and are on your plate within a few hours. Fresh and local, verified Aliments du Québec!
Children's health is important!
A cause that is close to our hearts! After all, our children are precious!
More fruit and vegetables on your plate!
Proud partner of the "I love fruit and vegetables" movement to promote the pleasure of eating good fruit and vegetables every day!
Giving back to the community
Stephan and Pascal Lemieux care about the health of children and that is why they have been contributing to Opération Enfant Soleil for several years. La Diva is proud to support this great cause.
We're looking for...
Greenhouse technician
Under the supervision of the crop manager, the technician ensures the good health of the plants by applying all preventive methods and by intervening as needed to treat problems caused by insects and diseases affecting the plants.
Greenhouse worker
– plant at the beginning of the crop
– maintain the tomato plants
– harvest tomatoes according to company standards
– remove leaves from tomato plants according to instructions
– stake and sucker the plants
– prune plants
– apply organic fertilizer
– pack the harvested products
– clean up at the end of the crop